Dr. Arshad B. Pirani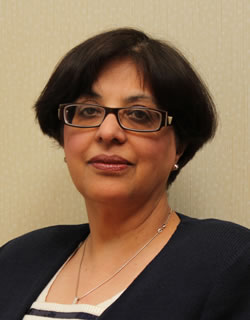 Dr. Pirani was born in Kenya and did her early education in East Africa. She travelled to the United States in 1970, where she earned her Bachelor of Science degree from the University of Oregon in 1973. She then received her dental degree from the University of British Columbia in 1977.
Dr. Pirani has been in a private dental practice in Maple Ridge, British Columbia, for over 35 years.  Her practice includes all facets of General dentistry including Orthodontics, Temporomandibular Joint Disorders and Sleep Disordered Breathing.  She has extensive postgraduate training in all aspects of dentistry, including Forensic dentistry and soft tissue injuries to the cranio/mandibular/cervical areas after trauma.  She is an expert witness and is often asked by lawyers to do an Independent Medical Examination on their clients.
Dr. Pirani has had surgical privileges in several of the lower mainland hospitals where she assisted oral surgeons in orthognathic surgeries.
She was appointed by the Minister of Health to sit on the Hospital Appeal Board for British Columbia from 2003 to 2011.
Dr. Pirani has completed mini residencies in TMD and Craniofacial Pain from the University of Washington (95), University of Minnesota (2000), UMD of New Jersey (2005), and AACP Institute (2008) and from TMJ & Sleep Therapy Research (2010)
In April 2011, Dr. Pirani joined Dr. Liem and Dr. Cheung in opening a centre in Burnaby dedicated only to the treatment of non surgical therapy of Temporomandibular Joint Disorders, Craniofacial pain and Sleep Disordered Breathing.
Diplomate
American Board of Forensic Dentistry (1999)
American Board of Forensic Examiners (1996)
American Board of Forensic Medicine (1996)
Academy of Clinical Sleep Disorders Disciplines (2012)
Diplomate Eligible 
American Board of Craniofacial Pain – Craniofacial Dental Sleep Medicine (2013)
Distinguished Fellow
American Academy of Craniofacial Pain (2009)
Board Eligible
International Association for Orthodontics (1993)
Training in Orofacial Pain, University of Medicine and Dentistry of New Jersey (2000)
Soft Tissue Injuries resulting from Motor Vehicle Accidents, American Academy of Head, Neck & Facial Pain (2001)
Head & Neck Anatomy and Diagnostic and Therapeutic Injections in Craniofacial Pain (2005) from American Academy of Craniofacial Pain
Non-endodontic Coronal Resection of Fused and Germinated Vital Teeth – A New Technique
David, Krakowiak, Pirani
Oral Surgery, Oral Pathology, Oral Radiology & Endodontics, Mosby
Year Book Publications, Vol. 83, No. 4, Apr. 1997
Memberships in Various Organisations
Canadian Dental Association                                                                             1973 – Present
College of Dental Surgeons of British Columbia                                            1977 – Present
I.       Member of the Review Committee                                                                       1996 – 2000
II.      Member of the Nominations Committee                                                            2000 – 2003
III.    Chair of the Nominations Committee                                                                  2002 – 2003
3.      Vancouver & District Dental society                                                                      1978 – 2010
I.       Membership Committee Chair                                                                               1988 – 1989
II.      Secretary, Executive Committee                                                                            1993 – 1994
1996 – 1997
III.    Director, Executive Committee                                                                               1994 – 1996
4.      Federation Dentaire International                                                                          1978 – Present
I.       Chair, hands on courses: International Convention  Oct. 1994
Vancouver, British Columbia, Canada
5.      Oral Surgery Study Club                                                                                            1982 – 2006
Dr. T. H. David – Mentor
Secretary, Treasurer
6.      Academy of General Dentistry – British Columbia Chapter                               1987 – Present
I.       Director                                                                                                                          1992 – 1994
II.      Chair, Dental Care Committee                                                                                  1995 – 1996
Delegate for British Columbia at the National                                                    Jul. 2003
Meeting in Nashville
7.      American Association for Functional Orthodontics                                               1984 – 2008
Charter Member
8.      Greater Vancouver Orthodontic Study Club                                                            1985 – 1997
Dr. C. Garcia – Mentor
9.      International Association for Orthodontics                                                              1985-Present
10.    D.J Sweet Forensic Study Group                                                                                 1992 – 1998
Dr. D. J. Sweet – Mentor, Treasurer
11.    Pacific Northwest Forensic Studies Group                                                                  1992 – 2000
12.    American Academy of Forensic Sciences                                                                    1994 – 2005
13.    InternationalCollege of Craniomandibular Orthopedics                                         Sept. 1996 – 1998
14.    The American College of Forensic Examiners                                                           Sept. 1996 – Present
15.    American Academy of Craniofacial Pain                                                                    June 1998 –Present
   Association of Dental Surgeons of British Columbia                                         1999­­­­­ – Present
   Member of Academy of Clinical Sleep Disorders Discipline                            2011—Present
Education
High School
1963 – 1967Aga Khan School, Uganda

Cambridge University 'O' Levels (1st class)
Pre-university
1968 – 1969Highlands Boarding School for Girls, Kenya Cambridge University

'A' Levels in Physics, Chemistry, Zoology & Mathematics
Undergraduate
1970 – 1973University of Oregon, Eugene, Oregon, USA

Bachelor of Science (B.Sc.)
Graduate
1973 – 1973University of British Columbia, Vancouver, British Columbia, Canada

Doctor of Dental Medicine (D.M.D.)

1993International Association of Orthodontics

Board Eligible in Orthodontics

Armed Forces Institute of Pathology, Washington DC, USA

1994Forensic Dentistry
1997Forensic Anthropology

Sept. 1991 – Apr. 1992University of British Columbia, Vancouver, British Columbia, Canada

Advanced Clinical Periodontology

1991 – 1994Boston University, Goldman School of Graduate Dentistry

Correspondence Courses

Soft Tissue Management
General Dentistry

March – Sept. 1995University of Washington, Seattle, USA

Comprehensive Assessment & Management
Of the Temporomandibular Joint Disorders

American College of Forensic Examiners

Sept. 1996Board Certified Diplomate of the American College of Forensic Examiners
Oct. 1996Board Certified Diplomate of the American College of Forensic Medicine in the Diagnosis And Forensic Analysis of Unresolved, Trauma Induced Craniomandibular/Cervical Injuries
May 1999Diplomate of the American Board of Forensic Dentistry

Nov. 8, 1999 – Feb. 20, 2000University of Medicine and Dentistry of New Jersey

Department of Oral Medicine
Internet Course in Orofacial Pain

July 27-29, 2000University of Minnesota, Minneapolis, USA

Temporomandibular Joint Disorder and Craniofacial Pain Mini Residency

July 27 2001American Academy of Craniofacial Pain

Certificate in Diagnosis and Treatment of Soft Tissue Injuries Resulting from Motor Vehicle Accidents

Oct. 15, 2003 – July 28, 2004Oral Appliances for the Treatment of Snoring and

Oct. 2004 – May 2005Obstructive Sleep Apnea
Dr. Alan Lowe, UBC
Vancouver, British Columbia, Canada

University of Tennessee, College of Dentistry, Professor Mariano Rocabado Nashville, Tennessee, USA

May 21, 2004a) Craniomandibular/Craniocervical
Biomechanics and Facial Asymmetry
May 22, 2004b) Intermediate Treatment and Diagnosis:
TMJ Pain Map – Synovial Classification for Treatment Approach
May 23, 2004 Disc Pathology/Advanced TMJ/Cervical Spine

Oct. 15, 2003 – July 28, 2004University of Medicine and Dentistry of New Jersey

Update in Orofacial Pain including a clinical component for participants in the internet course.
New Jersey, USA

Craniofacial Pain Mini Residency ACCP Institute Fort Worth, Texas, USAy

Sept. 18-20, 2008Session 1 – Craniofacial Pain Disorders, History Examination, Diagnosis and Treatment Planning
Nov. 13-15, 2008Session 2 – Treatment and Management of the Patient with a Craniofacial Pain Disorder
Feb. 19-21, 2009Session 3 – Physical Medicine Modalities, Occlusion, Pharmacology and Electro diagnostic Modalities in the Management of the Craniofacial Pain Patient
Apr. 23-25, 2009Session 4 – Orthodontics for Phase II Finishing, Sleep Disorders, Alternative Therapies: Their Relationship to the Craniofacial Pain Patient